Satya - Nag Champa Backflow Dhoop Cones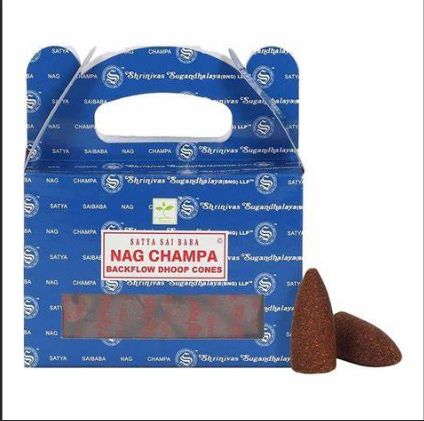 Satya - Nag Champa Backflow Dhoop Cones
Satya backflow incense dhoop cones for use with backflow incense burners.
These cones are crafted using the highest quality ingredients to offer long lasting fragrance as with all Satya product. 
Backflow incense are exactly as the name suggests – incense where the incense smoke flows in the opposite direction as normal incense,  downwards instead of upwards. Backflow incense is made in the shape of a cone, with a small, hollow tunnel through the center, ending in a hole at the bottom center. The smoke flows down like a waterfall and creates a beautiful serene effect. Does not work with regular incense burners. (Must Be Backflow Incense Burner)
​Burning time 1 cone: app. 15 min.
Burn the tip of the incense cone and wait for it to burn evenly. Blow out the flame and place the cone on the backflow incense burner.
Shipping or Free In-Store Pickup Available
In stock, ready to ship

Inventory on the way
Liquid error (snippets/image-element line 107): invalid url input